Written by: Adegbola, Bukola Suliyat of Farmconnect , 08093016914.
Tomato is one of the major food crops consumed in Africa. It is a cheap and affordable source of vitamins A and E. This makes tomato farming a very lucrative venture for any entrepreneur. If you have thought of starting your own tomato farm you will get the information you seek in this post. The high demand for tomato has placed tomato farming and processing business at a significant spot in the agro-business ventures.
During the severe tomato scarcity period of 2016, Nigerians got to know just how important tomato has become. Our frustration was heightened when pictures emerged on social media of Spain having a tomato-throwing festival. Many people wished they had started tomato farms earlier. The ones who did invest in tomato business smiled their way to the bank while the rest just looked on. It is not too late to start now.
Setting up and running a tomato farm is relatively cheap, considering that you can chose to lease or rent the farmland or equipment required to start. It all depends on your budget.
A small scale tomato farm could easily be set up at your backyard with little cost. Furthermore, the tomato seeds are not expensive at all, and the yield per hectare is absolutely fantastic.
One of the great things about tomato farming is that after harvesting, you can either sell your tomatoes or go ahead to processing into paste which opens up a lot of other profitable opportunities to you as an entrepreneur.
How to Start Tomato Farming in Nigeria
Get a farmland
Tomato is cultivated in most northern states of Nigeria. States like Plateau, Bauchi, Kano, Sokoto, Gombe, Borno and Niger state are blessed with the right soil and weather condition which favor the growth of tomato. Interestingly, you can lease a hectare of land for as low as 8,000 (especially in plateau state). This figure is, of course, relative to time and place. Further inquiries should reveal what is obtainable in your region.
Several state governments, especially in the states listed above, usually have incentives programs to encourage farmers. One of such incentives is availability of land for farming. So find out from your state Ministry of Agriculture if they have any such provisions.
You can also discuss with land owners in your state and have a joint venture arrangement with them where you farm on their land and share profits with them. The benefit is that you don't spend money on getting a farmland.
When you have succeeded in getting a farmland for tomato farming, you can proceed with land preparation exercises and planting your tomato seeds.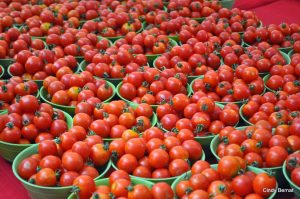 Get the Right Variety of Tomato Seeds
This goes a long way in determining the growth, resistance to diseases and yield of your tomato. Some of the most common tomato species are Roma tomato, Cherry tomato, Beefsteak and Sauce tomato. Roma variety is characterized with low moisture content, deep red color, and bigger fruits.
Planting
Tomato seeds are first planted in a nursery to provide adequate controlled conditions for the seeds to germinate.
After about two months from the time of transplanting, your tomato farm should be due for weeding and application of fertilizer. Fertilizers with high content of calcium, phosphorus, magnesium and other essential nutrient should be used to replenish the soil nutrients
Harvesting
Tomato is a fast-growing crop. After about three months from planting, the tomato would start to ripen, ready for harvest. Tomato is usually harvested in batches, once you harvest the first batch you would continue to harvest tomato from your farm till the plants die off (usually in dry season).
Marketing
One downside of tomato farming, as with other perishable crops, is that tomatoes have a very short shelf life. If you don't succeed to sell your crops immediately after harvest, you will some big loss on your hands.
One way around this is to proactively find buyers before the harvest period. You can spread the word about your tomato farm right from the time you start planting. Meet major dealers in the market and let them know you have a farm.
When harvest time approaches, you can make arrangements to supply directly to those buyers once you harvest. The tomato market is very large, spanning across most western and southern parts of Nigeria. Locating buyers for your farm produce would not be much of a challenge.
You can also meet tomato processing companies if you don't intend to start a tomato processing plant yourself. The market for processed tomato is equally large – beyond just Nigeria. Processed tomato is in hot demand in the international market and you can make a fortune from exporting processed tomato.
Challenges associated with Tomato Farming
Damages
The major challenge encountered by most farmers is damage after harvest owing to the perishable nature of tomatoes. Except when they are processed or refrigerated, raw tomato is highly perishable. To mitigate the risk of damage to your tomato, make arrangement for them to be sold even before they are harvested.
Competition  
Some tomato processing companies have already made a name for themselves in the market. As a new entrepreneur, you will face the challenge of competing with some of the already established brands. However with determination, enticing packaging, and high-quality product, you will prove a tough competition for the already establish products.
Capital
Sourcing for funds to start tomato farming business could prove challenging, especially if you would love to go into large-scale tomato processing with all the necessary equipment.
If you follow the advice on getting a farmland, you can write a huge chunk of the expenses off your list because land is a major cost component of farming. There are a number of ways to source for fund, plus you can check out some available government grants and loans you could tap into.
A major factor of getting external funding for your tomato farming business is having a good business plan. Your business plan could attract investors and win you loans to start the business.
Because of the importance of having a good business plan to secure funding, most beginners spend all their time trying to create the perfect business plan. This is a mistake. As a beginner, you should spend the most of your time getting valuable experience in tomato farming.
A business plan is basically useless if you have no experience to carry out the plan. Besides, nobody would give you money solely on the grounds that you have an impressive business plan. They want to see your work in progress and convince themselves that you are a doer, not a talker.
So instead of poring over a business plan, try to start a small-scale tomato farm. This will give you valuable hands-on experience and priceless information about how tomato farming works.
NEED A TOMATO FARMING BUSINESS PLAN or CONSULTATION/COLLABORATION ON TOMATO FARMING? Write to info@activationplusng.com
or Call on 08129901475.